What Is Vision Therapy
Your eyes and brain share a close relationship—a relationship that is key to guiding every task you perform in a day. However, certain conditions can change how your brain and eyes interact, possibly affecting the skills you use to play sports, drive, read, write, and so much more.
These issues can occur at any age and stem from injuries, health events, or pediatric conditions, but we can help with our Vision Therapy & Neuro-Rehabilitation program.
Vision therapy (VT) is an all-ages treatment that focuses on training and improving the relationship between the eyes and brain using a series of personalized neuro-visual exercises. We customize each program to you or your child's needs using various techniques and technologies.
Whether you want help keeping your eye on the ball or help your child get more from their education, we can help. Book a binocular vision assessment/pre-concussion screening today and discover the potential of your visual skills.
Request Appointment
Sports Vision &
Post-Concussion Therapy
One of the many reasons we focus on providing modern vision therapy and neuro-rehabilitation services to our patients is because we understand and appreciate the visual skills you use to excel at any sport. These skills include hand-eye coordination, eye tracking, focusing, and depth perception.
However, concussions can have a great impact on each of these skills. In fact, nearly 60% of people who experience a concussion will develop some form of vision problem. To help improve your sports vision or manage concussion-related vision problems, we'll develop a personalized program using:
Therapeutic filters, lenses, and prisms
Computerized exercises and games
Personalized activities based on your visual needs
Programs may last for a few months to a few years, depending on your needs. We'll continuously keep you informed on your progress and make regular assessments to see if you need to continue your vision therapy program.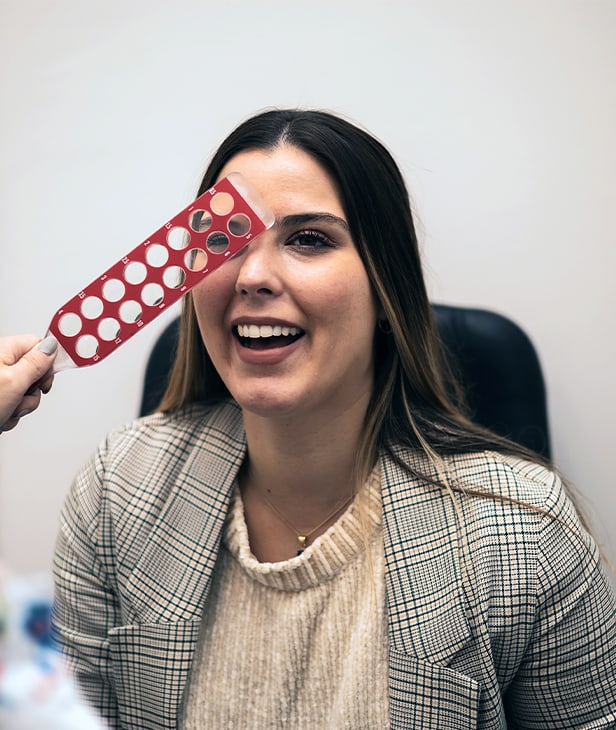 Sports-Related Pre-Concussion Screenings
You want your athletes performing at their best, so we're happy to provide pre-concussion screenings for individuals and teams.
Pre-concussion screenings can provide you with a baseline understanding of how your or your team's vision works. Understanding your neuro-visual abilities can help you keep track of your or your team's visual skills and how they're affected throughout the season.
Even if you don't play a contact sport, accidents can happen, so it's important to monitor your vision and give it the help it deserves. You can book your pre-concussion screening for you and your team today by clicking the link below!
Vision & Learning
Vision and learning go hand in hand, but several issues can affect how you or your child learns or even behaves. It's important to know how vision problems affect learning, so always be on the lookout for symptoms like poor reading comprehension, double vision, blurry vision, or skipping lines while reading.In some cases, vision problems may be diagnosed as learning disabilities like ADHD or dyslexia. We can help get to the bottom of these symptoms using several vision therapy screening techniques. If neuro-visual deficiencies are causing these issues, we'll be happy to develop a personalized vision therapy program to address them.
Pediatric Conditions
Vision therapy is most effective when it treats a problem as early as possible, and several vision conditions could develop during childhood.
Some of the most common eye conditions a child can develop are amblyopia (lazy eye) and strabismus (crossed eyes). These issues generally develop early in your child's life but could lead to permanent vision problems if not corrected.
One of the reasons we want to correct amblyopia and strabismus as early as possible is to help prevent vision loss, which can occur if your child's brain ignores the images provided by their "weaker" eye.
Vision therapy addresses the issues causing your child's symptoms, like uncorrected refractive errors or poor eye muscle control, using a program of exercises, patches, lenses, filters, and prisms.

Book Your Binocular Vision Assessment/Pre-Concussion Screening
Fill out the information and we will contact you to discuss the best possible time for an assessment.
Patient Referrals
Eyes on Sheppard uses a secure web portal that allows you to electronically refer patients.
If you have a client or a patient that needs an assessment, please fill out the following form and one of our team members will contact them directly to book an appointment!
Find Out if Vision Therapy Is Right for You
Vision therapy can help correct a myriad of issues. If you think vision therapy may be right for you, give us a call today!
Request Appointment